Description
On this Ireland Itinerary we traveled in 11 days to the south and west coast of Ireland including Kerry, Dingle, Connemara and Dublin. We made a lot of great hikes to more remote parts of the locations and had a rental car to get around. If I would make this trip again, I would spend most of the time in Connemara because of the rough landscape, beautiful beaches and the few tourists.
Our 11 Day Ireland Itinerary
Day 1: Waterford
Day 2: Killarney
Day 3-4: Kerry
Day 5: Dingle
Day 6-8: Connemara
Day 9: Inishbofin
Day 10: Dublin
Day 11: Howth Head (Dublin)
Gallery
Overall costs
$ 2300
Duration
11 days
Rating
---
Itinerary:
Waterford
We arrived in the late afternoon in Dublin and immediately drove down to Waterford to spent the night there. The idea behind this route was to see the southern coast from the next day on while driving to Kerry. I would
not
recommend this part since the southern coast is by far not as spectacular as the west coast so instead just directly drive to Kerry.
Nevertheless, the town itself is quite nice and there are many pubs and restaurants to enjoy an evening.
How to get there
By car: It takes only around 2 hours by car from Dublin Airport to Waterford on highway M9.
Get around
By foot: Waterford is a small town and you can easily walk everywhere.
Things to do
Scenic drives: West of the city are the Comeragh Mountains which is a small mountain range with nice hiking opportunities.
Mount Congreve Gardens: Also west of the city is a big botanical garden with lots of flowers, an ice cream shop and an old castle.
Killarney
We spent 4 nights in Killarney and visited Kerry and Dingle as day trips from here. We also made a little afternoon hike outside of town to see Lough Leane Lake and the mountains of the Killarney National Park. Killarney is a really clean and relaxed little town with beautiful architecture. Of course, there is also no shortage of pubs.
How to get there
By car: From Dublin Airport it's around 3.5 hours by car and from Waterford around 2 hours and 45 minutes.
By plane: Kerry Airport is located only 10 kilometers north of Killarney as has regular flights to Dublin, London and Frankfurt.
Get around
We just walked everywhere we wanted to go inside the city. For anything else either take your rental car or book a guided tour.
Things to do
Kerry Way: The 9-day long distance trail starts and ends in Killarney and circles around the Kerry peninsula.
Killarney National Park: The park has some of the oldest forests of Ireland, mountains and a big lake. For more details check the Wikipedia page about the park. We didn't have the time to spent a full day in the park but went to the lake and drove through the park on N71 with some photo stops. But the park made it to our bucket list for our next Ireland vacation.
Kerry
Kerry is a dilemma since it's one of the most visited parts of Ireland but also one of the most scenic ones. When talking about Kerry most people referring to the Iveragh Peninsula and not the Kerry County which is way larger than the peninsula. We did an organized day trip from Killarney by bus since we had no idea where to go and wanted to be able to enjoy the scenery without taking care of the narrow roads.
It was a nice day and we basically drove the Ring of Kerry in one day but you can easily spend a full week in Kerry if you go hiking.
How to get there
By car: Killarney is part of Kerry but the next beach on the ocean is about half an hour north-west of town.
Get around
Most people make a tour around the Iveragh Peninsula west of Killarney by car or bus. If you have the time go hiking to avoid the big crowds.
Things to do
Ring of Kerry: The 179 kilometers long scenic drive circles around the Iveragh Peninsula and goes through Killarney. It's an easy day trip if you start early.
Hiking: The area offers great hiking opportunities for day trips and even the 9-day long Kerry Way trail.
Dingle
Dingle is the peninsula north of Iveragh with fewer hills and tourists. The main attractions are a hike to the westernmost point of Ireland, Dingle Town and a cruise to the dolphin Fungie living just outside of Dingle Harbor. We visited Dingle as a day trip from Killarney but unfortunately had bad weather the entire day. So, we spent the day in Dingle Town and drove around the surroundings with a few short walks.
How to get there
By car: We drove one hour from Killarney to Dingle and used the paid parking lot at Spa Road while being in the city and stopped wherever possible while driving around.
Get around
Dingle Town: The city is small and you can easily walk everywhere.
Around Dingle: Well there is public transportation but they just serve the lines a few times per day so a bicycle or rental car would be the best option.
Things to do
Slea Head Viewingpoint: The most popular and unfortunately crowded viewpoint on the peninsula offers spectacular views over the western end of Dingle and the Great Blasket Island. It is possible to walk here from Dingle but that takes around 5.30 hours walking time one-way so you should organize a transfer in one direction if you plan to walk this route.
Cycling: Dingle is a popular place for cyclists and there are a few rental shops in Dingle. Expect to pay around 14 € a day.
Connemara
Connemara was our favorite part of the trip because of its wide, open landscapes with just a few houses and tourists. It's one of these raw and original places with great views nearly all the time. We stayed in a Guest House close to Clifden and made a day trip to Inishbofin Island and a hike on the coast from beach to beach. Connemara has countless small beaches with crystal clear water and if we had known how awesome it is, we would have shifted more time to this place. Seriously don't skip this beautiful stretch of the Irish Coast.
How to get there
By car: It's a 4-hour drive from Killarney to Clifden via Limerick and Galway. But we decided to drive to Tarbert, crossed the Shannon Estuary by ferry (book tickets online for a discount) and then drove to the Cliffs of Moher where we unfortunately once again had thick fog instead of great views. So, check the weather first and plan with additional 1:30 hours of driving time.
Get around
You should have a car if you want to explore the area on your own. Public transportation is really not a good option since Connemara is only densely populated.
Our hiking route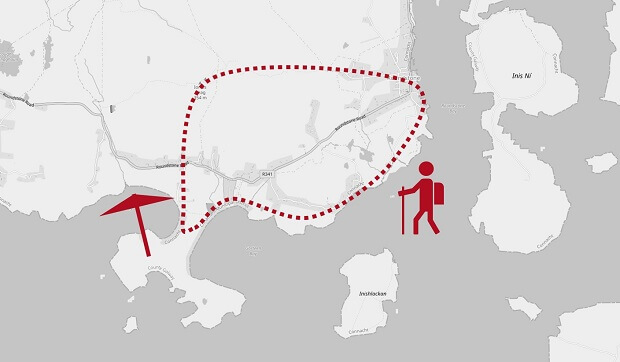 The best thing to do in Connemara is definitely hiking between the countless beaches and mountains. We made a 4-hour hiking tour from Gurteen Bay along the water to Roundstone and over the small mountain Iorras Beag (354m height) back to the beach at Gurteen Bay. The beach has an insane watercolor with white sand and is the perfect spot to relax after the hike.
Inishbofin
The small island of Inishbofin in the north-west of Connemara is a popular day trip if you want to visit one of the many islands. We also went there for a day of hiking and as you can see in the pictures it was raining a lot but that's part of being in Ireland. Overall, it was a really cool day and I would totally recommend to visit this island for a day.
How to get there
By ferry: During the peak season there are three daily (otherwise two) ferry connections from Cleggan to the island which takes 30 minutes each way.
Get around
Most people just go for a hike once they left the ferry but it's also possible to rent some bicycles on the quay.
Things to do
We did the Westquarter Loop which is marked purple on the first picture in this gallery. The hike is 8 kilometers long, moderate difficulty on green and gravel roads and takes around 2:30 hours. The hikes all start from the quay so if you are a fast walker you can add another one as well.
Dublin
We only spent one day in Dublin to visit the Guinness Brewery, the Trinity College and with walking around town. You can easily spend more time in the city itself but we decided to head out to Howth Head for a day since we visited the city before. It's a great place to end the trip and to enjoy an evening with proper nightlife after the many cozy pubs.
How to get there
By car: We drove to Dublin with our rental car in around 3.5 hours.
By plane: Dublin Airport is well-connected to Europe and North America by classic and low fare airlines.
Get around
Tram / Trains: The easiest way for longer ways in the city is the tram called Luas and the suburban rail service DART for the suburban areas.
Walking: The main attractions in the city can also be explored by foot.
Bicycles: A great way to get around are bicycles which can be hired in many hostels or at Dublinbikes which has many stations across the city.
Things to do
Guinness Storehouse: The Storehouse next to the Brewery is an exhibition which shows you on several floors how the beer is made. Each step has its own floor and with every step in the process you walk up the Storehouse until you finally reach the roof where you can taste the beer with magnificent views over the city.
Trinity College: You can wander around the yards of this famous university and also visit some buildings. There is no general entrance fee, only if you want to visit the old library.
Temple Bar: Pubs, pubs, and some more pubs. Dublin's famous party district is a popular tourist spot and a fun place to meet international travelers.
Howth Head (Dublin)
The small peninsula in the north of Dublin has a great hiking trail and was recommended to us by a local. It's an easy 4-hour tour with great views to Dublin, the harbor, the Wicklow Mountains and the small island Ireland's Eye which is a popular sailing spot.
How to get there
By train: The easiest way is by train from Dublins Connolly Station to Howth Railway Station. The train ride takes only 26 minutes with on average two connections per hour.
Our hiking route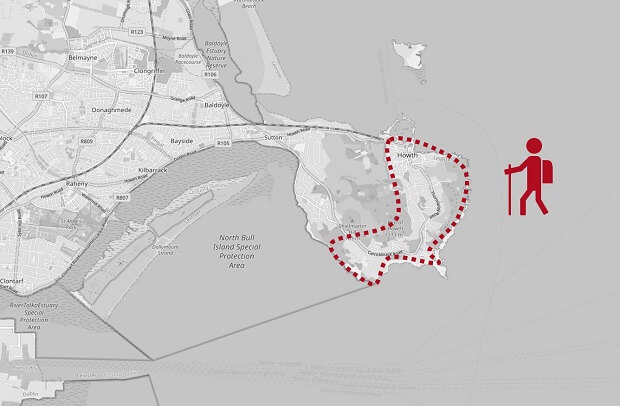 From the railway station walk east out-of-town and follow the trail along the coast. You will pass some cliffs and an old lighthouse (Old Bailey Lighthouse) and then turn westwards from where you have great views towards Dublin. Now the path goes up to Ben of Howth next to a golf course and back down to Howth.